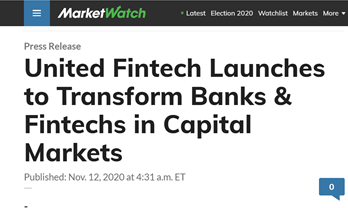 Scaling up and innovating = the golden age of fintech!
United Fintech, founded by CEO Christian Frahm, announced an investment in one of COHERRA's partners – NetDania.
We congratulate both Thomas Elster, the CEO of NetDania, and Christian Frahm on this new progressive partnership.
It is an exciting announcement, one particularly close to COHERRA as it is the story of things coming full circle.
Christian Frahm and Coherra's CTO Ole Rossing and CEO Søren Haestrup all share a common history in Saxo Bank.
The late visionary CEO and co-founder of NetDania and the father of the current CEO, Stig Brylle, was a former Saxonian as well.
But their paths keep on crossing well after that, too.
Christian and Ole co-founded CFH Group A/S in 2008. One of their clients? Søren's hedge fund.
After the successful exit of CFH Markets to PlayTech Group, Christian went on to establish United Fintech, and Ole ultimately became the CTO of Coherra.
This story of crossing paths is a statement that when one works in an innovation-driven industry, sooner or later, ambitious ventures benefit from working together.
We are excited to be working closely with both Christian Frahm at United Fintech and Thomas Elster from
NetDania!